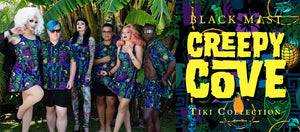 Welcome to Creepy Cove!
Say "Aloha'' to this dark take on Tiki! The Creepy Cove pattern features a rather lively parrot skeleton, a terrified toucan, and a bat who thinks they're one of the birds! It also features:
A pineapple jack-o-lantern
A tiki mug from the black lagoon
Some fishing float lanterns with a spider web woven net
A piranha skeleton and hammerhead shark swim through the design
The skulls of those who have wronged us
The mask of a vampire
Tropical foliage to shade yourself
If you love Tropigoth, you'll LOVE Creepy Cove!
This collection includes a button-down t-shirt, dress, enamel pin, swimsuit, flip-flops, shorts, and beach towel!
Think of the Creepy Cove collection as the new sibling to the Tropigoth Collection! Inspired by Tiki culture and mid-century modern aesthetics, with a creepy twist!
Perfect for Mahaloween, Hulaween or Hallowtiki parties, an actual tropical vacation, or your next escape to your favorite tiki bar!
Photo by @mackenzielenoraphotography Video by @ls1visuals
Models @amandabangx @bredenius @nina_kate @spiciestmeatball @pinuppalmer @dvvsk_
---