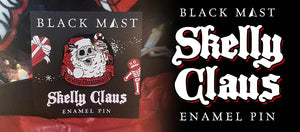 NEW Skelly Claus enamel pin!
HO HO Hoooo NO that's not Santa Claus! That's SKELLY CLAUS! 
This 1.5" enamel pin is perfect for that little hint of creepy during the Christmas season! wear it on your jacket lapel or as a brooch, or put it on your winter bag while traveling to visit family!
Features red glitter for that hint of glam in the winter months! 
Inspired by vintage illustrations of Santa Claus.
Get the Skelly Claus Enamel Pin Here
---