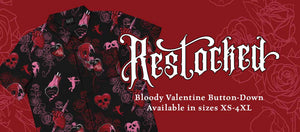 Bloody Valentine Button-Down RESTOCKED!
Show your undying and undead love this Valentine's Day with the newly restocked Black Mast Bloody Valentine Casual Button-Down T-Shirt! Order before Feb 1st to have it before any Valentine's date nights you might be going on!!
Check the size chart on the product page for measurements in inches.
Devilish cupids take aim at forlorn hearts. A vampire skull is bathed in blood. Poison hearts float among the falling thorny roses. Poisonous love potion beckons you to drink and love forever. And a severed arm extends it's valentines greeting to you!

It's not just "'Til Death," it's for Eternity!

OR Shop the rest of the Bloody Valentine Collection HERE
---