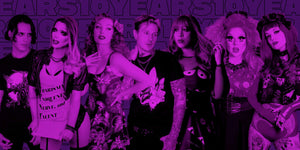 Black Mast 10 Year Anniversary!
Can you believe it? We've been doing this crazy thing for TEN WHOLE YEARS!
Seemed like an appropriate time to reintroduce myself to friends and followers new and old. I'm Brandon, the designer and illustrator behind all the designs under the Black Mast umbrella!
Our designs are Bold. Spooky. Campy, and a little Glam.
Everything is custom illustrated by me (Brandon Redenius). I've gotten some surprised reactions to this, as so many brands either use clipart and stock images or hire designers to execute their ideas. 
Who is Black Mast for?
Black Mast creates unique alternative apparel for those that wear their dark side on their sleeve. It's for the ones who never quite fit in a specific box, like me. The alt kids, the goth ghouls, the weirdos, the misfits; you are my people! 
Why I Started Black Mast:
Black Mast came out of a need for a creative outlet outside of my corporate graphic design jobs. 
I wanted to create something that I could share and connect with others with similar interests.
I wanted to create more  tangible designs that reflected my personal interests and the communities and fandoms I was part of.  
We decided on the name Black Mast to invoke a sense of darkness and adventure, like the mast of a ghost pirate ship! The logo mark of the compass arrow represents finding fulfillment and purpose on this creative path, and building towards the goal of working for myself. 
What Inspires Black Mast Designs (and me personally!)
Inspired by escapism and all the roads that lead to it: Embodying a character for Halloween. The tropical fantasy of Tiki Bars. The magic of an immersive theme park. The drama of a drag show. The Beauty of a burlesque show. Getting lost in your favorite movie, record, tv show, video game. Bring a little of that escapism into your wardrobe. 
What Do We Value?
Black Mast is LGBTQ owned and stands for individuality, creativity, and authenticity.
Thank you for being here, and stay tuned for the adventures ahead!
---